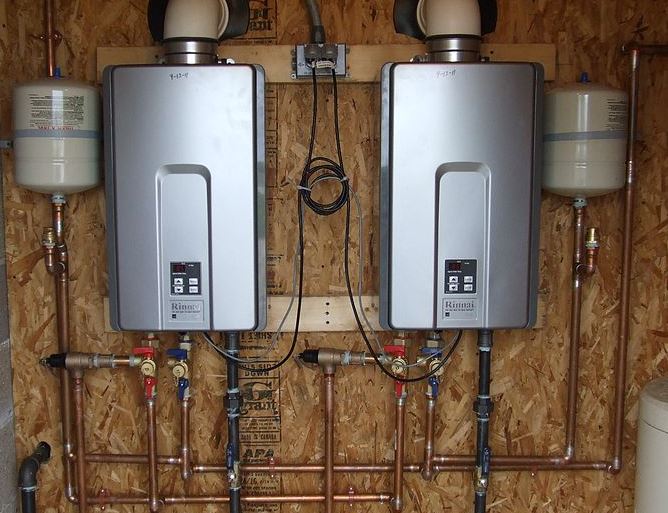 Plumbing professionals know that there different factors to consider when choosing a water heater. While other water heaters are ideal for particular plumbing jobs, tankless water heaters take pride from having numerous benefits that you must take for consideration when planning to switch your water heater.
Tankless water heaters are more energy efficient for homeowners over the storage water heaters that depend on water usage. Aside from their residential energy savings, the tankless water heaters provided benefits for various commercial applications.
Key Advantages of Tankless Water Heaters
Tankless water heaters basically run on gas or electricity and may supply hot water for kitchen sinks, lavatory faucets, laundry machines, dish washers, and showers. They're idea for commercial settings that have high water demands though such periods are intermittent.
When tankless water heaters fire up, these sense temperature of incoming water and the computer microprocessor actually determines the energy required to deliver the water at flow rate and temperature setpoint.
The advantages of tankless water heaters extend far beyond the longer showers. They can help you reduce your water heating bills, free up space in your home's utility closet, and ensure demands are always met.
Conserve Energy
A tankless water heater consumes electricity only when there's a need for hot water. However, storage tanks use energy to keep hot water reserve. Consider the peak times of your facility for hot water. When it comes to schools, there might be a rush after a gym class session for showers or for preparing foods in the kitchen.  There are also summer and holiday breaks once demands drop lower. Every time you are not using energy for heating water gives you instant savings.
Say Goodbye to Down Time
For a lot of businesses, hot water for clients is actually part of the experience they offer. It is also a necessity that connects the bottom line directly. If you do not use lots of hot water, tankless water heaters are great to have. If your demand is a lot and your company relies on hot water, you cannot afford having down time once you run out.
Instead of being limited by some gallons that your storage tank holds, the tankless water heaters give infinite amount of hot water. Just think of the settings including spa, hair salon or hotel and customers walk away disappointed if they are not given with the services that rely on hot water. It may be disastrous for restaurants to close their doors for some health reasons if there's not enough hot water. With tankless water heaters, you don't have to deal with those scenarios.
Tankless Water Heaters Can Help Business Grow
These water heaters are very efficient. Homeowners will surely reap the perks over time of energy savings while the professional contractors will have a chance to install value-added system for customers. Since there are some technical elements to consider whenever you are installing tankless water heaters, it's recommended that experienced professionals install and would do system maintenance.
Count on local professionals for water heater replacement in Aurora, Colorado.